Pathways to Research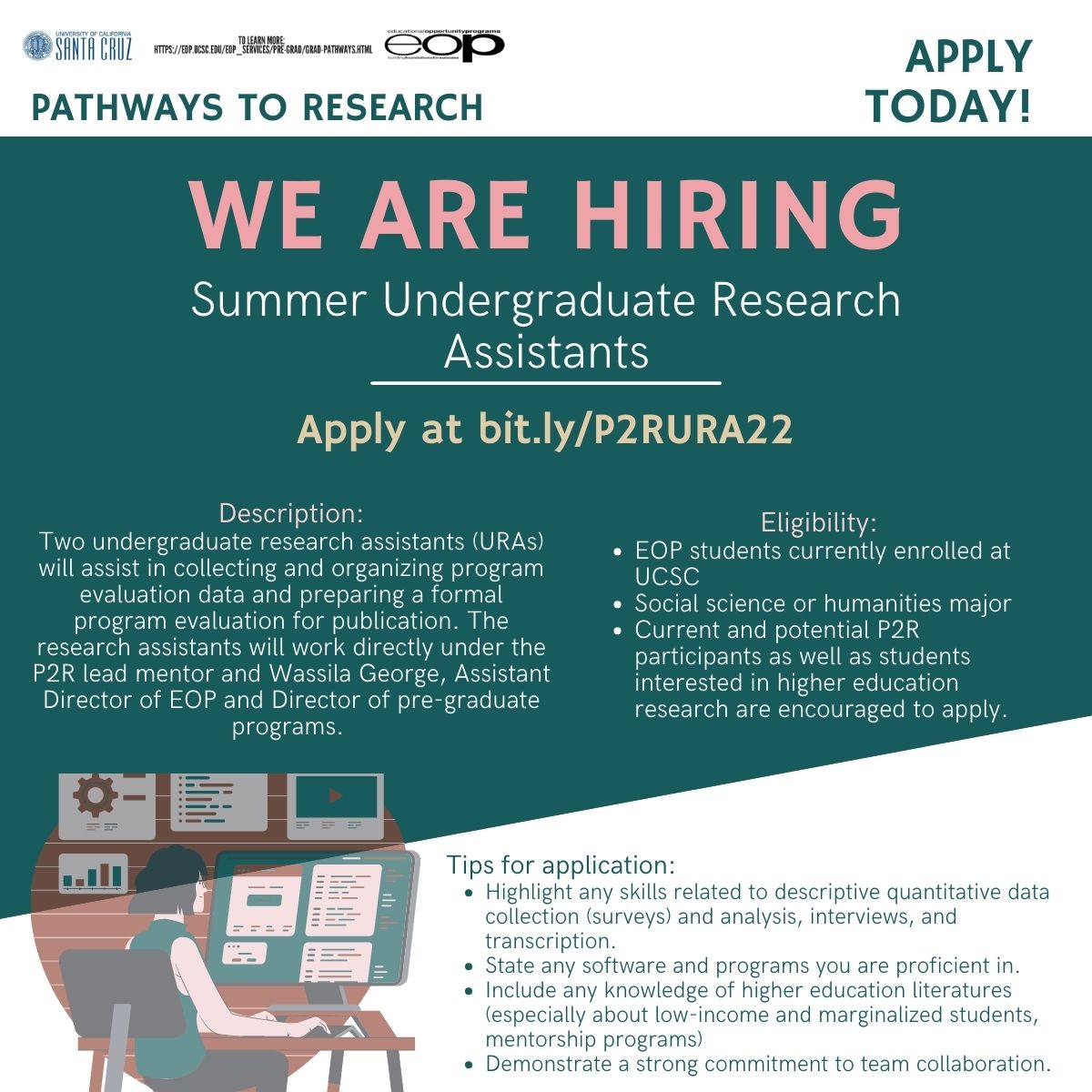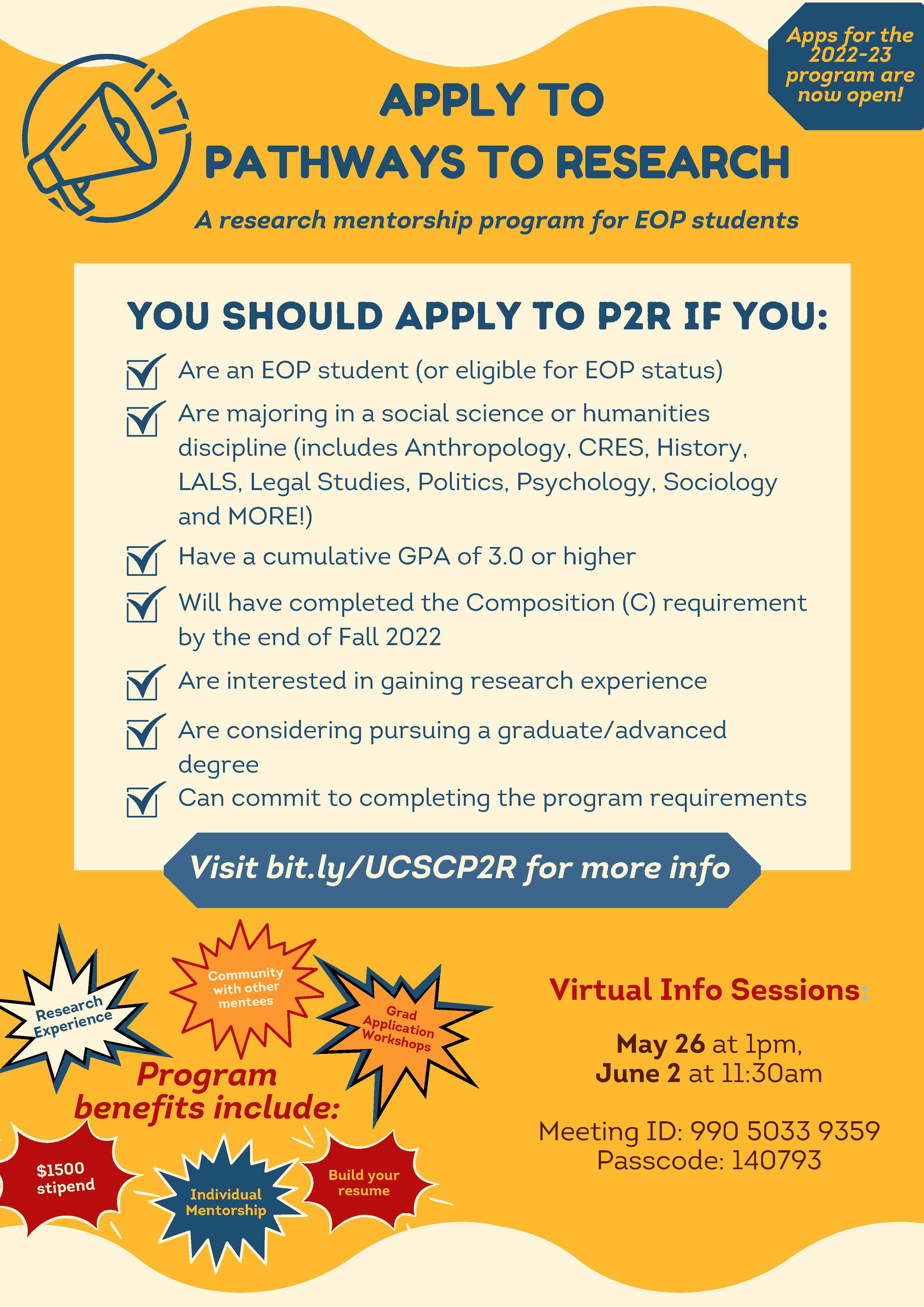 FOR UNDERGRADS:

Pathways to Research (P2R) is an EOP research mentorship program that pairs undergraduate mentees with graduate student mentors. The program is open to students in the social sciences and humanities and intended for students interested in pursuing a graduate degree (J.D., M.A., Ph.D., etc).

Virtual info panels

 featuring past and current P2R mentees will be held v

irtually on Thursday, May 26 at 1 pm and Thursday, June 2 at 11:30 am. 

Meeting ID: 990 5033 9359




Passcode: 140793




*Recordings of t

he first panel will be available on the P2R website. 
Apply for a Summer Undergraduate Research Assistantship with P2R!

P2R is hiring two undergraduate research assistants to assist in collecting and organizing program evaluation data and preparing a formal program evaluation for publication. The research assistants will work directly under the lead mentor and Wassila George, Assistant Director of EOP and Director of pre-graduate programs. Research assistants can expect to be compensated about $1500 each and summer work schedules are negotiable (70-80 hours total) 




FOR GRADS:

Apply to be a P2R mentor!

P2R is hiring 3 graduate student mentors (15% appointments) for the 2022-2023 program to being in September 2022. We encourage all grads in the social sciences or humanities who are enthusiastic about research and undergraduate mentorship to apply! 

Apply to be the P2R lead mentor!

P2R is hiring 1 graduate student lead mentor (50% appointment and tuition coverage) for the 2022-2023 program to begin in July 2022. We encourage all grads in the social sciences or humanities who are dedicated to undergraduate mentorship and interested in scaling up an established campus program to apply! 

Virtual info panels

 

featuring current mentors will be held on May 30 (5:30pm), May 31 (12:15pm), and June 6 (4pm).

Meeting ID: 990 5033 9359




Passcode: 140793
Welcome from Pre-Graduate Programs Coordinator:
On behalf of the Pathways to Research (P2R) team, thank you for considering P2R among the many opportunities available to you at UCSC!

P2R is a research-mentoring program for EOP undergraduate students majoring in a social science or humanities discipline. Over the program year, undergraduate mentees receive mentorship from a Ph.D. student on topics spanning the research process and graduate school preparation.

This year, P2R is pleased to offer spots for 25 student participants. Of these, at least 15 spots will be reserved for sophomores, juniors, and seniors enrolling at UCSC for a fifth year who will participate in P2R Path 2 - and commit to joining P2R for 2 years. The increased program length is designed to support students in planning a primary data project and learning about the graduate school application process in their first year and collecting primary data and applying to graduate school in the second year. Each participant is expected to dedicate 5-8 hours per week exclusively to their P2R project and students may enroll in independent studies with faculty to earn course credit. Upon completing each program quarter, students will receive a stipend of $500. Each participant will present their independent research proposal or data analysis at the Spring Symposium in the seventh week of the spring quarter. Path 2 participants will continue mentorship through the summer and into the following year.